Healthy Gluten Free Chicken Meatballs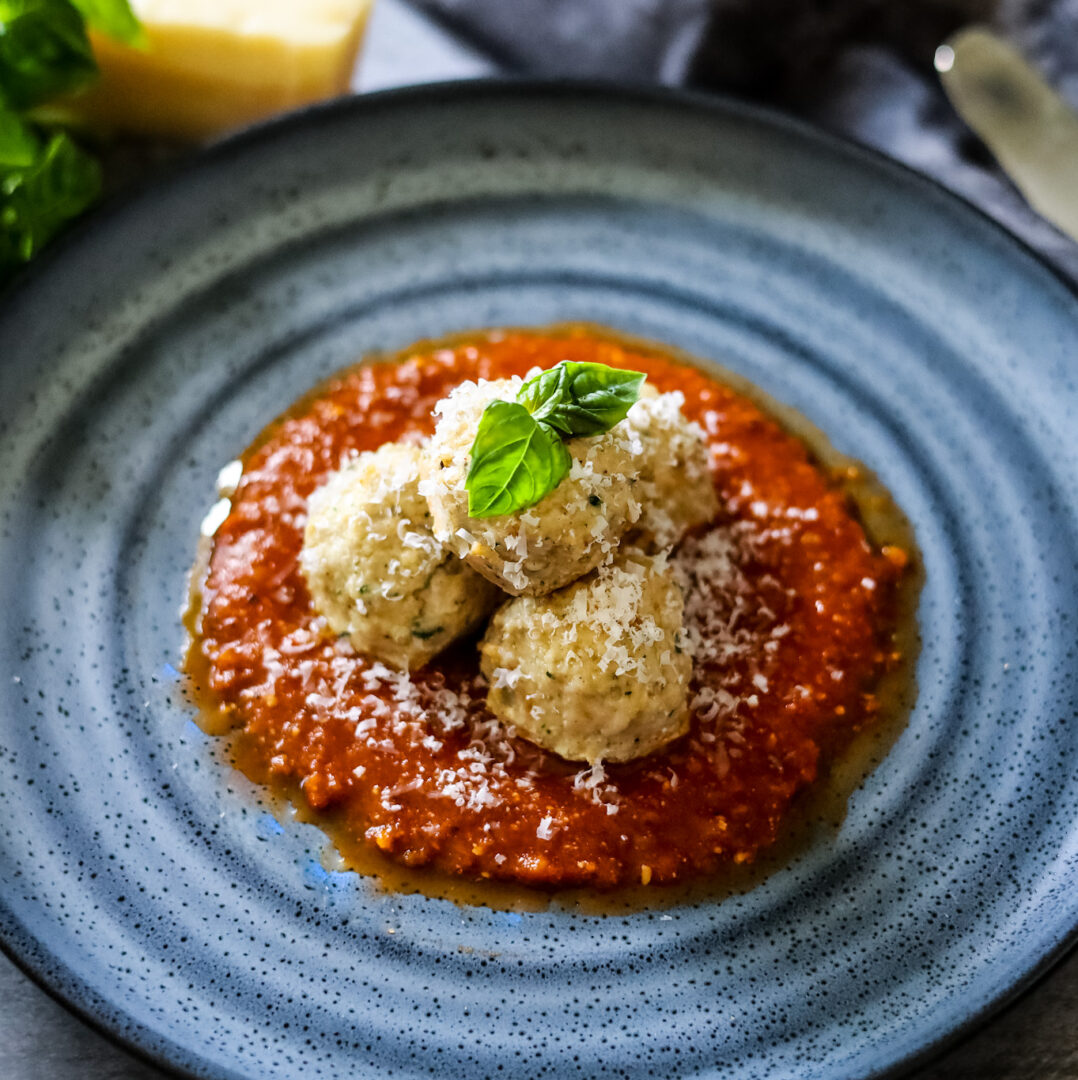 These Healthy Gluten Free Chicken Meatballs are one of my favorite go to recipes for a quick delicious and quick meal for the family. It can be made in less than 30 minutes and on the table to satisfy those hungry bellies! What's more? They are a yummy healthy version to help with lower calories and fat than those made with beef, pork and veal.
Are you starting the New Year with healthy recipes to get rid of those holiday extra pounds? If so, you'll love this recipe for Healthy Gluten Free Chicken Meatballs. They can be used in a lot of ways such as a zucchini pasta dish, stuffed a low carb pita or wrap. Put into soup and the list goes on! When switching chicken out for the beef and pork, not only are you cutting calories you'll be cutting the fat as well which will give you a delicious alternative to those heavier calories loaded meatballs from beef and pork.
This was inspired by my Greek Chicken Meatball recipe on this site. It pairs well with a side of Roasted veggies, or even on a winter salad.
Ingredients
To make these Healthy Gluten Free Chicken Meatballs, use ground chicken (lean) and add the chicken sausage bratwurst to add a little fat to the mix but not to much. I used gluten free breadcrumbs to make this dish but regular breadcrumbs are fine too. Use plain breadcrumbs instead of Italian because you will add that in already. You can also make these by substituting ground turkey and turkey bratwurst if you can't find the chicken products listed below.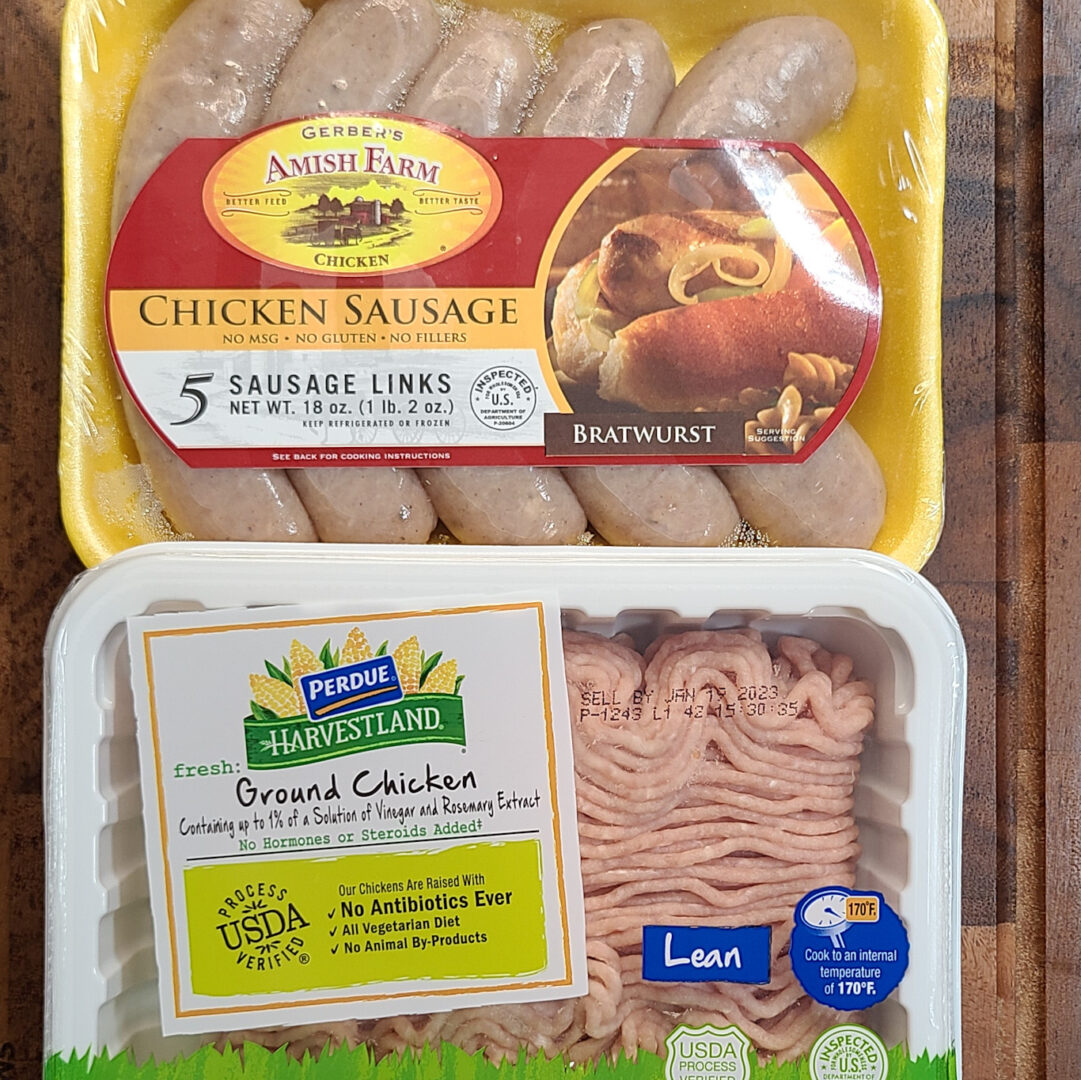 Ground Chicken
Chicken sausage bratwurst
Gluten Free Breadcrumbs
Grated Romano or Parmesan cheese
Beaten Eggs
Italian Seasoning
Cajun Seasoning
No Salt Garlic and Herb Seasoning
Dry Parsley (or fresh)
Whole milk Ricotta Cheese (not pictured)
Salt & Pepper
See recipe card for quantities.
Instructions
Preheat your oven to 400°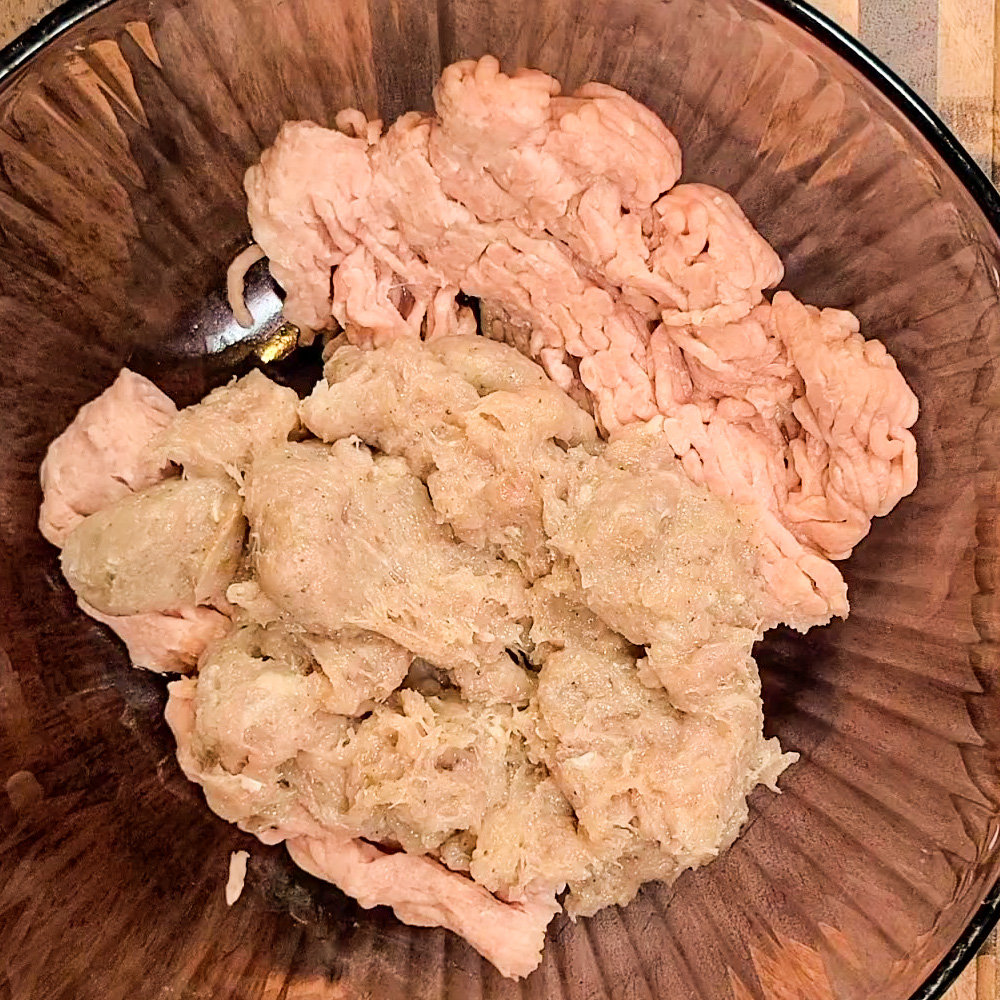 Take Chicken bratwurst meat out of the casing and place in a bowl with the ground chicken.
Add all the ingredients and mix well with clean hands.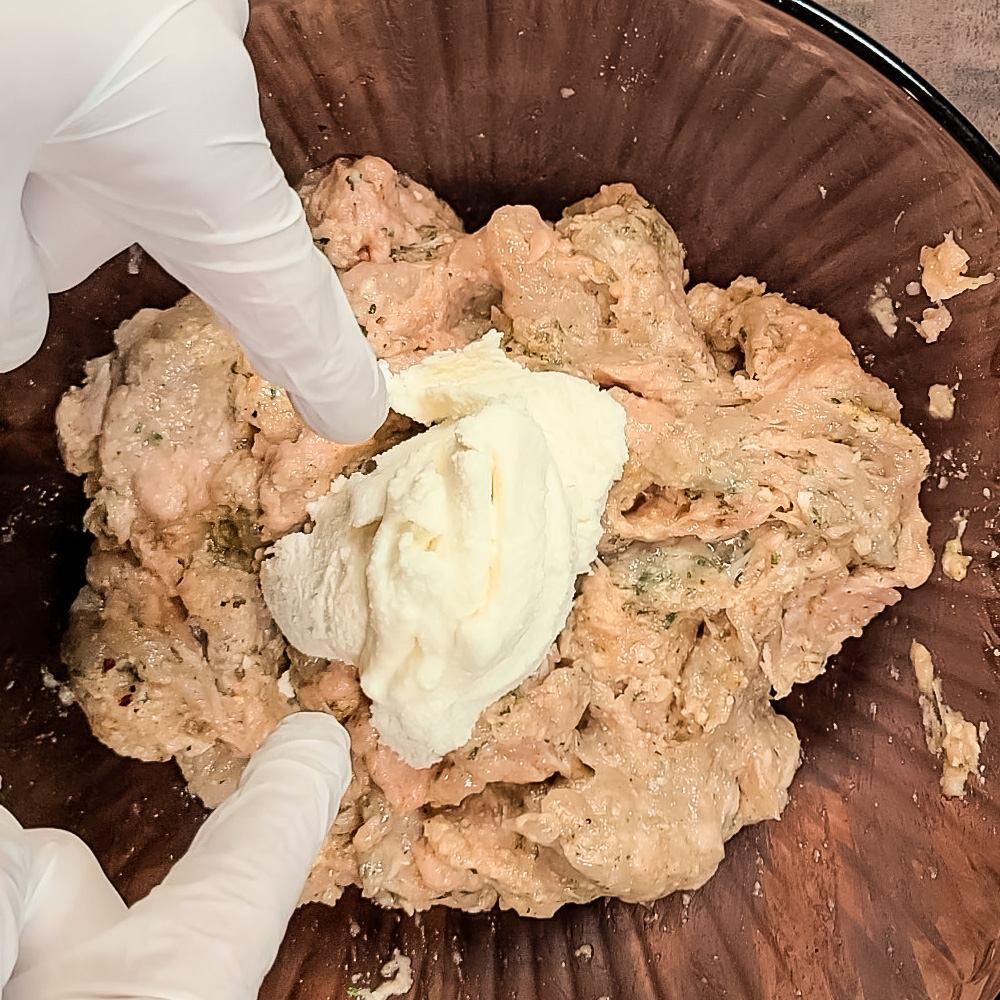 I forgot to add in the ricotta into the mixture. Be sure to add this and mix well
Using a 1 oz baller scoop onto a greased sheet tray and place in the heated oven.
Hint: Use a meat thermometer to be sure the meatballs are cooked to 165°. I use this one Thermometer
Substitutions
If you can't find the chicken bratwurst, this recipe works just as well with ground turkey and turkey bratwurst. You can also use a spicy chicken/turkey sausage to give it more kick!
If you don't have issues with gluten allergies you can use regular breadcrumbs too.
This recipe will work for keto and gluten-free diets. It is low carb at 8 carbs per serving. It also has over 18 grams of protein and only 185calories per serving.
Variations
You can serve these delicious meatballs in a variety of ways.
Sandwich – stuff a pita with the meatballs and add lettuce, tomato, shaved red onion
Submarine – Make a classic meatball sub with my Sunday Sauce and melted provolone cheese.
Pasta – Sere with your favorite pasta noodle. We use Jovial GF brand.
Equipment
Not a lot needed to enjoy this delicious recipe but to make things simple here are the few Items that make quick work of it.
Storage
Let leftover cool and then place in an air tight container and store in the refrigerator for up to 5 days.
Top tip
Be sure to use the meat thermometer so you don't overcook or undercook the meatballs. I pull them once they hit 165° and then put them in my sauce to simmer for 5 minutes or so to add flavor to the sauce.
FAQ
Question 1
What if I can't find the chicken bratwurst? Can I use turkey instead?

Answer:
Yes, absolutely! I have used Honeysuckle White brand for both the ground and the bratwurst.
Question 2
1/4 tsp seems lite for salt, should I add more?

Answer:
The bratwurst is already seasoned and usually they have quite a bit of salt, up to 700+ mg of sodium per link. For this reason I mix all the ingredients very well and then take a tablespoon and cook it so I can taste it to see if there is enough seasoning. If I'm using the chicken bratwurst that has 550 mg of sodium per link, I found 1/4 tsp is enough. If I'm using the turkey I use less to just a pinch of salt since they have over 700 mg of sodium per link.
Related
Looking for other recipes like this? Try these:
Print
Healthy Gluten Free Chicken Meatballs
These Healthy Gluten Free Chicken Meatballs are one of my favorite go to recipes for a quick delicious and quick meal for the family. It can be made in less than 30 minutes and on the table to satisfy those hungry bellies!
Total Time:

25 minutes

Yield:

8

serivings

1

x
1 lb ground chicken
1 lb chicken bratwurst (5 links)
1/3 Cup whole milk ricotta cheese
1/3 Cup Glute Free Breadcrumbs
1/3 Cup grated romano/parmesan blend cheese
1 Tablespoon no salt garlic and herb seasoning
1 teaspoon Italian seasoning
1/2 teaspoon cajun seasoning
1/8 teaspoon red pepper flakes (more for spicy)
1/4 teaspoon kosher salt
1/8 teaspoon ground black pepper
Instructions
Pre-heat oven to 400° F 
in a large mixing bowl with room to work take the chicken sausage filling out of the casing and place in mixing bowl. Add the ground chicken and then all other ingredients.
With washed hands gently mix everything together well. Even better, use food grade disposable rubber/latex gloves to mix.
To taste for seasoning, take a small spoonful and cook in a small skillet until it reaches 165°. Let cool for a moment and taste. Adjust salt and pepper accordingly and then do another cook/taste sample. Once it's at your desired seasoning cover the bowl and refrigerate for 1 to 4 hours.
When ready to cook use a 1oz scoop or use 2 tablespoons per ball. (if you wish for larger meatballs you will need to be sure to temp out the meatballs at 165 degrees to insure doneness. 
Cook 1oz balls at 400° on center rack until internal temperature reaches 165° which should be 14-18 minutes depending on your oven. I used a convection roast setting on mine.
Notes
For the best dinner, placed cooked meatballs in a pot covered in my Sunday Sauce recipe here. Simmer for 30 minutes then plate with your favorite pasta noodle. For gluten free we love the Jovial Brand. Holds up very well. 
Author:

Chef Dave

Prep Time:

10

Cook Time:

15

Category:

dinner

Method:

Oven

Cuisine:

Italian

Diet:

Gluten Free
Keywords: Healthy, gluten free, Italian
Remember when working with Poultry
Cook to a minimum temperature of 165 °F (74 °C)
Do not use the same utensils on cooked food, that previously touched raw meat
Wash hands after touching raw meat
Don't leave food sitting out at room temperature for extended periods
Never leave cooking food unattended
Use oils with high smoking point to avoid harmful compounds
Always have good ventilation when using a gas stove

A retired chef of 27 years, I'm so excited to be able to share my love of cooking. My recipes are usually easy to follow, fresh, and simply delicious! Our kitchen is a gathering place where I love being with friends and family. A place filled with laughs, good conversation, great food, and a good glass of wine!
From my table to yours, Cheers!
Don't Miss a Recipe
Subscribe Now