Perfect French Green Beans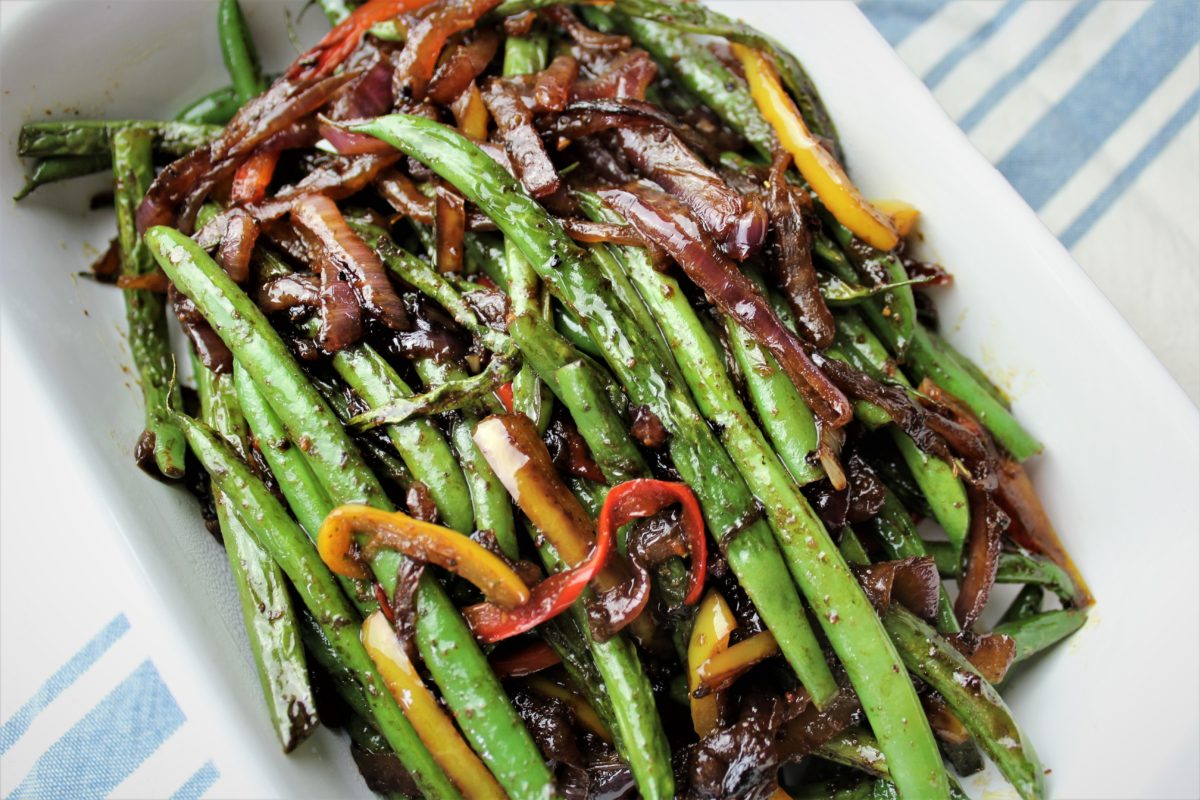 Go Fresh or Go Home! That should be your motto. Fresh is the best way to eat when it comes to your vegetables. Throw away the canned goods from the grocery store and walk over to the produce section so you can enjoy the best flavor and crispness that fruits and veggies have. By doing this you'll get rid of a lot of wasted sodium your body doesn't need that are in canned goods. Unless it's wintertime and you canned those vegetables yourself, today's world has plenty of fresh fruits and veggies and are always plentiful at your local grocery. This perfect French green beans recipe will change your thinking on fresh veggies!
At our house we love fresh Perfect French Green Beans! They are smaller and thinner in size that your regular bag of green beans but full of color and flavor and when cooked right, there is nothing better! I hope you enjoy this simple recipe, and it becomes a family favorite! 
Enjoy!
Chef Dave
Here's what you'll need:
1 Bag of French beans 6 to 8 oz. (most groceries carry them but I've found Whole Food to be the least expensive)
1 Medium red onion cut in half lengthwise and sliced
1 Small yellow and red bell pepper cut into slices 1/4 inch thick ( or any color works)
1 Clove garlic smashed and minced
1 TBSP Balsamic Glaze (picture below Step 6)
Kosher Salt and Pepper for seasoning
Olive oil (for cooking)
Step 1 (Blanching)
What is the Blanch method (boil in salted water then place in an ice bath – next step below
Fill a large skillet with water and 1 TBS Kosher Salt and bring to a gentle boil. Once at a gentle boil add your French Beans as pictured below and boil for approximately 2 minutes, if beans are larger then go an additional minute. The beans should be a little tender to the touch but not soft. You will finish the cooking process in the skillet later.
Step 2
While the beans are blanching prepare an ice bath. This is just a pan or large bowl filled with ice then water.
Once the beans are finished Blanching place the beans in the ice bath (below) to stop the cooking process and to cool quickly.
Next dry the beans on paper towels and make sure they are dried completely.
Step 3
Rinse and dry out the skillet and add 2 TBS olive oil to the pan and over medium high heat add the onions and peppers. Toss in the oil and let cook browning them nicely to get some good color. Season with salt and pepper lightly and cook until the peppers and onions have caramelized with some good dark colors. Once cooked down I add in a splash of stock (you can use chicken or vegetable) or water if you don't have stock handy and cook until liquid has evaporated.
Step 4
Remove the onions and pepper mixture and set aside.
Add 1 TBSP olive oil to pan and again over medium high heat add in the French Beans to the pan, toss in oil and season lightly with salt and pepper. Don't move the beans around too much. you want the beans to get a little charred and blistered, toss occasionally to get color all over the beans. (2 to 3 minutes total).
Step 5
Once the beans are tender to your liking (taste for crunch) add in the onion/pepper mix, minced garlic and toss then cook an addition minute.
Step 6
Now drizzle with Balsamic glaze and toss to coat! Serve this side dish with your favorite main courses and enjoy!
This perfect French green beans dish is great with just about anything and the total cooking time is about 10 to 15 minutes. You can always blanch ahead of time to save time when cooking your main dishes as well. It's great as a side dish for Thanksgiving or any big buffet style meal too just double in size!
Share this recipe on your social media so your friends can enjoy it too!
Thanks for stopping by Chef Dave's Table!
Try these other great recipes:

A retired chef of 27 years, I'm so excited to be able to share my love of cooking. My recipes are usually easy to follow, fresh, and simply delicious! Our kitchen is a gathering place where I love being with friends and family. A place filled with laughs, good conversation, great food, and a good glass of wine!
From my table to yours, Cheers!
Don't Miss a Recipe
Subscribe Now